Top 10 Hobby Laser Engravers and Laser Cutters
This list will focus on the best laser cutters and laser engravers for personal and hobby use. Please note that not all of these laser cutters / engravers are meant for professional use. Please see our page Top 10 Best Laser Engravers for a list of professional laser engravers and laser cutters for business/commercial use or our Top 10 Laser Cutters for Industrial Use for a list of heavy duty laser systems for industrial and manufacturing purposes.
Resale and Durability
When buying a laser keep in mind that there is a resale value and durability, you will either want to sell it again at minimal loss or use it for a long time. American or European made machines will retain most of their value when or if you decide to sell it again. The laser cutting and engraving business is not for everyone and it is important to make sure that your investment is not lost. The first on this list is a good example, Epilog is our favorite company and the resale value remains high even after several years of use. The majority of Chinese made machines do not last as long and do not retain their value. Although the cost is much lower to begin with, their value second hand is a far smaller percentage.
Maintenance Time and Cost
The second thing to think of is how much maintenance you will need to keep the machines running. Epilog laser are built very intelligently with modular systems that can be exchanged and replaced by yourself with minimal expertise. Epilog has great guides and how to instructions when parts need to be replaced. (Disclosure: we do not receive payment from Epilog, nor do we sell their products or are in any way affiliated with them, they are just the machines of our choice).
Power and Size
The third thing you want to keep in mind is how many watts do you need and size of the laser bed. The more watts the more laser engravers will cost. However, the more wattage the thicker material you can cut and the faster you can engrave. Laser systems have a speed to power ratio that can be adjusted based on needs. Lower wattage will require slower speeds for cutting and engraving while higher wattage can do the same job in a fraction of the time. If you only use if for small projects and only use it infrequently, a lower wattage would make sense as it is the lowest price point. If you are thinking about making money with the machine you will want to consider increasing the wattage as you can finish jobs faster and take on more work.
1. Dremel Digilab – $6499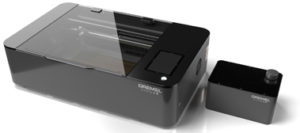 Dremel sent us a Digilab laser and we absolutely love it. Although we have not tested it extensively, it comes close to being a laser that can be used for commercial activities. It is a clear competitor for the Epilog Zing which is about $500 more expensive with a smaller bed size and less power. We are currently working on a full and detailed review of the Dremel Digilab.
2. Epilog Zing – Price Starting at $7000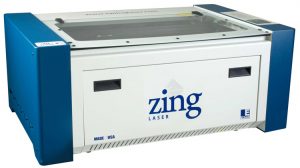 The Epilog zing is a serious hobby / semi-professional laser engraving and laser cutting system. It is made in the USA and is a phenomenal entry level laser engraving and laser cutting system that will last many years of regular use. The prices start at around $7000 (2018) for a Zing 16 30 watts and go up to $15000 for a Zing 24 60 watt machine.
We would actually recommend buying a used one from an authorized dealer. Unlike other laser engravers, Epilog can be bought from a reliable source at a huge discount and will function the exact same and come with a warranty. This can be hard to find on short notice, but if you have time and are not in a rush check out your local Epilog distributor and see if they have a pre-owned system. These systems come with a warranty and are usually flawless (this is how we started years ago and in fact we still have and use the original machine).
Click here for more information and purchasing options
3. Full Sprectrum H-Series – Price starting at $3499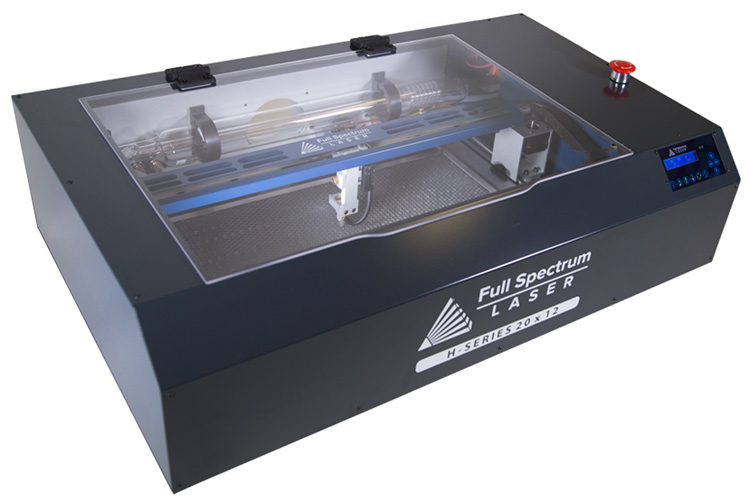 Another American made laser cutter / engraver that has some great features. Full spectrum has come a long way since its start. We have been able to use their machines on several occasions and have noticed a huge improvement in recent years. The engraving is of high quality and the relatively low price point also makes it a great choice. Full Spectrum offers a 30 Day 100% Money Back Satisfaction Guarantee.
Click here for more information and purchasing options
4. Full Sprectrum Muse – Price Starting at $5000




Full Spectrum have recently released another hobby laser, the Full Spectrum Muse, starting at $5000. The lasers come in either a 40 watts or 45 watts with a cutting bed of 20″ x 12″. Full Spectrum offers a 30 Day 100% Money Back Satisfaction Guarantee.
Click here for more information and purchasing options
5. Glowforge "3D Laser Printer" – Price Starting at $2500

The Glowforge is a laser system we have not personally used yet. We did find that there was some confusing terminology and information in their initial crowdfunding campaign. They call their laser a "3D Laser Printer" which is not entirely accurate. It looks like they are attempting to tap into the hype of the 3D printer to boost the sales of their machines. It is simply a laser engraver / cutter that engraves using 2D files and engraves on a 2D plane. Of course it is possible to design and cut parts to make 3D objects but the engraver itself does not print in 3D.
It also seems that it took a very long time to ship them engravers after the campaign was successfully funded. We read many negative reviews about the slow process taking around 2 years for customers to receive their machines after the campaign. The company stated that it took longer than anticipated to ensure the product would function correctly and not take any shortcuts.
As a full disclosure we have not yet been able to independently test the Glowforge engraver, but we have heard good things and it seems like the company has been able to fulfill their promise. Based on what we have heard it is the 4th on our list and seems more reliable than Chinese lasers. We will follow up with actual testing in the coming months.
Click here for more information and purchasing options
6. Chinese Laser Cutters
To be fully honest we are not huge fans of these machines and at this time (November 2019 would not recommend to buy one, if you do please be careful and do your research, we are working on a page for the best Chinese lasers, however, almost all cheap Chinese systems have major flaws). The last time we used one was about 3 years ago and never looked back. While making this list we noticed almost all other websites claiming a Top 10 list have links to Amazon where you can buy them. That clearly is not an honest list as these companies receive a commission for referring to these products. We would like to point out that we do not receive any money from this list, other than the advertisements that we placed to keep giving you up to date information so you can make an informed decision. With that said please d look out for cheap laser engravers, although they are much cheaper than other machines on the list they do cost quite a bit of money (too much money to lose on a bad machine). The machines we have tested so far have under performed and become very costly over time as parts break and need replacement. If you do buy a Chinese laser, you should expect to put in some money on upgraded parts and send time adjusting it before it will function properly.
Click here for more information and purchasing options (list of best Chinese machines coming soon, we will post it as soon as we can verify and test several models).




As of November 2019 this is our complete list. Please stay tuned for more additional in the coming months. If you are a manufacturer of laser engravers please send us an email if you would like to add a machine to the list. To be added to the list we would require an extensive demonstration or to send us a machine for use to use. We update this page with a side by side comparison of machines engraving capabilities which will test for detailed engraving, speed and ease of use.