Description
Laser Engraved Bamboo Business Cards
Bamboo is one of our favorite materials as it not only has an incredible look, it also is a fast growing plant which makes it one of the most sustainable wood types we offer. As we do our best to only buy wood from sustainable lumber yards across the United States, using natural materials is one of our biggest priorities. We are a huge supporter of sustainable forestry and go to great lengths to ensure that the majority of our products have a FSC or other certification.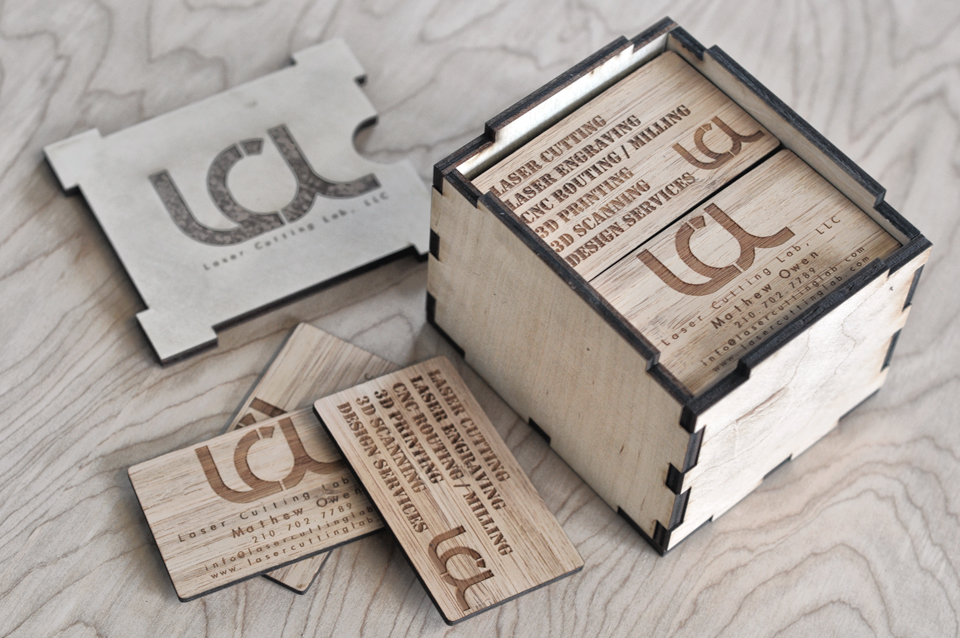 Base price is $150 for 50 cards and includes design and modification services. Cards come in a custom made laser cut box with your logo engraved on it (or anything else you would like to engrave on the box) Before we ship we make sure you love the result.
Custom made Laser Engraved and Laser Cut Business as a way to stand out in any business situation. It is the type of card you do not need many of. They are great as a gift for a recent college graduate to land the perfect job (trust us, he/she will stand out in any job interview). Bamboo is perfect to promote an Organic product. Walnut for a quality wood working professional. No matter what your trade is there is a business card for you. We can also cut any shape, you are not restricted to the traditional 3.5″ x 2″ business card format and in many cases we do not charge extra for custom cut shapes. If you sell guitars we can cut the shape of a pick or even a fender for you. If your business is in the pet industry we can cut it into the shape of an animal. These are simple examples, what we want to do is to push you to think of the most creative card you can possibly come up with. We can laser cut a wide variety of materials such as acrylic, many wood types, card-stock / cardboard and fabrics. We have options where we can just the cut materials for you to assemble or deliver a finished product exactly to your specifications. Our laser produces extremely high resolution engraving and can cut almost any material in any shape up to approximately 1/4″ or 6mm. (some materials such as glass or metal are possible to engrave on but we are not able to cut on our machine, we would need to order pre-cut shapes which generally cost a bit extra).
Some answers to our frequently asked questions are:
1. File types needed are vector files. We can engrave from an image, however to keep the highest resolution a vector file is the best option.
2. We can cut any shape you can think of on a 2D plane. It can be as complicated as you like. Please do remember that cutting a circle within a circle is not an option. For example the letter O is seen by the laser as two circles (one inside the other) so laser cutting the exterior circle for the O will cut out the entire shape leaving a hole. So every that is inside of a closed curve will be discarded. If you have details inside of that closed O shape will not be on the finished shape. To many this is probably obvious but it is frequently and easily overlooked when designing.
3. Think of laser engraving in in terms of solid black an white for best results. Black is engraving and white is where the material. We can do gradients, however these generally take far longer which will cost more. In addition the results can vary greatly from design to design, some might be worth the extra time, but many turn out too faded.
4. Remember that laser engraving is not printing. The laser is a directed heat source that burns / etches away a layer of material (since it is not printing, it cannot engrave colors – we will add this option soon as we receive requests very often, but not available at the moment). We can change settings to where it burns a deeper layer of material often resulting in a darker engraving or where it burns a more shallow layer. Again, depending on design, one may work better than the other. We will try to post examples illustrating this.
5. Price depends on time, the more detail means the longer it will take. The base price is material, where birch and acrylic are readily available at reasonable costs and give relatively consistent results. Bamboo depends on supplier and unfortunately is hard to find from US suppliers (all of our wood comes from local or domestic suppliers). Other woods such as walnut, cherry, maple and a long list of other woods are available upon custom order. To save costs we accept that you ship your choice of wood directly to us. Pleas contact us before doing this.
6. Minimum order is one box of 50 Business Cards – UPDATE: due to frequent requests, we can do single test / sample card, however, we will have to charge a setup fee of $35 (which is free for regular orders and the $35 can be counted towards placing an order if you like the result). If you just want one card as a sample we have to change the setup fee. If you like the card and want to place an order then the set up fee will count towards your order (you will get a $35 discount for the order). We do this as setting up files for laser cutting can be very time consuming and require a number of steps to get a high quality result.
7. All materials are made, bought and grown in the USA unless specified. We only buy from local wood suppliers unless wood types are not available and we will purchase from a supplier elsewhere in the United States. We make sure all wood comes from sustainable forestry and do not use or accept endangered / exotic wood species. In addition we make sure all woods we buy have not been processed with harmful chemicals. Some cheaper wood may contain formaldehyde and other chemicals. Keep in mind that if you buy materials for us to engrave and cut that they come from reliable suppliers / sources.
Examples / Portfolio:
For other custom options please contact us.